TheLittLibrarian
Daughter of the Moon Goddess - Review
*I received the physical copy for the B2 Weird Bookclub tour and the E-Arc copy from Harper Voyage via Net Galley. All reviews are my own.*
I don't know what I've been doing to deserve all of these thick debut novels, but I'm not complaining about the quality of stories I've gained from them. It's been giving Bookstagram hype for months now, and I had a chance to finally check out Sue Lynn Tan's debut novel, Daughter of the Moon Goddess. When I tell you this book is jam-packed, I'm talking about a concert filled with little girls screaming BTS's name over and over jam-packed. I've worked on one of their shows, by the way, and that is truly a sight to see.
"Growing up on the moon, Xingyin is accustomed to solitude, unaware that she is being hidden from the feared Celestial Emperor who exiled her mother for stealing his elixir of immortality. But when Xingyin's magic flares and her existence is discovered, she is forced to flee her home, leaving her mother behind.
Alone, powerless, and afraid, she makes her way to the Celestial Kingdom, a land of wonder and secrets. Disguising her identity, she seizes an opportunity to learn alongside the emperor's son, mastering archery and magic, even as passion flames between her and the prince.
To save her mother, Xingyin embarks on a perilous quest, confronting legendary creatures and vicious enemies across the earth and skies. But when treachery looms and forbidden magic threatens the kingdom, she must challenge the ruthless Celestial Emperor for her dream—striking a dangerous bargain in which she is torn between losing all she loves or plunging the realm into chaos."
Anyway, Daughter of the Moon Goddess gave me what Six Crimson Cranes could not. It gave me complete world-building, strong character development, love triangle tropes that made sense, deception, redemption, and I didn't have to guess the aging throughout the story! I loved everything about this book! Well, not everything. It was pretty lengthy but worth it! DOTMG is "inspired by the mythology of Chang'e, the Chinese moon goddess." Tan was able to extend the story towards her daughter and her quest to free her mother by going up against the most powerful immortal in the realm." I never heard of this mythology before, but it's a retelling I can stand by.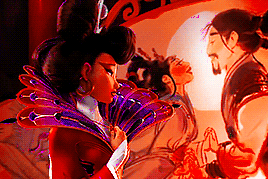 In a world where immortals live on the moon and stars and travel by clouds, we're introduced to Xingyin, Princess of the moon. To ensure her mother's safety, she left home, only to end up hiding in the very kingdom that wants to harm her mother! We follow her journey training with a Celestial Prince, slaying mythical monsters, mastering her elemental magic, and finding the lost dragons of the realm, all while making all the boys fall to her beauty and headstrong wit. And boy, does her milkshake bring all the boys to the yard! I usually don't care about these tropes, but this love triangle lover's to enemies dilemma was everything for this story.
The world-building is what grabbed me. I was sucked into a vortex of poetic-sounding locations, fashion, and the love of culture from the first paragraph. It's an imaginative world, but the text is richly dripped in the love of the ancient Asian lifestyle. Throughout the story, I also noticed the pattern of the theme being "the right to choose." Xingyin made it a point to let people know that it was her choice and no one else's whatever she did. I feel as if the world forgets that there's always a choice and everyone has a right to choose for themselves.
Overall I'm rating this book 4.5 stars. I don't know how Tan will come up with more content for the sequel because I think she wrapped up this story with a pretty bow. Either way, I'm invested! I really can't wait to see more of the love triangle Xingyin created. Hopefully, we can ditch the slow-burn narrative and go for some more action.
Daughter of the Moon Goddess debuts January 11, 2022
#TheLittLibrarian #Review #Fantasy #Mythology #OwnVoice #Fiction #Fairytale #Retelling #HighFantasy #AdultFantasy